<
It expands on earlier concepts presented by Japanese startup PowerX Manufacturing, which says it now expects the first vessels to commence service by 2026.

The first Battery Tanker "X" will be a 459-foot vessel equipped with 96 containerized marine batteries, providing a total capacity of 241MWh. According to the company, the battery system is highly scalable, allowing for the installation of additional batteries to create larger electric transport vessels, including its concept for the Power Ark 1000, a concept vessel that would carry 100 grid batteries able to transport up to 200MWh of power from the wind farm, or larger sizes to meet specific mission requirements. The proof of concept vessel targets a range of approximately 180 miles and would travel at a speed of 10 knots. It would take three hours to charge, and previously the company said it planned for the vessel to be fully autonomous in its operations.

The onboard battery system is based on a proprietary module design, using lithium iron phosphate battery cells that the company reports will ensure a lifespan of over 6,000 cycles. The system includes dedicated gas emission control and fire suppression mechanisms to ensure safety. Real-time monitoring of the battery system, charging controllers, and power conversion systems will further enhance safety measures. The batteries will be manufactured in-house and are expected to commence delivery in mid-2024 after obtaining international ship classification certifications.

A new company called Ocean Power Grid will be established in the third quarter of 2023 to advance the maritime power transmission business utilizing the battery tanker concept. This company will be responsible for owning, selling, and operating the battery tankers both in Japan and abroad. They currently project completion by 2025, with domestic and international field testing planned to commence in 2026.

The battery tanker would be available to store and transport power from offshore renewable power generation sites as well as to transfer power between locations on shore. The company's concept calls for retrofitting decommissioned or idle thermal power plants located near ports into charge/discharge points for the battery tankers. The power could be offloaded and transmitted to users via grid connections on the land, enabling further effective use of renewable energy.

Given the current energy density of lithium-ion battery cells, the company says that the battery tanker is an optimal solution for short-distance maritime power transmission from land to land, complementing existing inter-regional grid transmission lines. As the energy density of batteries improves and their cost decreases, it is expected that longer-distance maritime transmission from offshore wind power plants to the land will become feasible.

The introduction of battery tankers the company reports will establish new power transmission networks across the sea, promoting the storage, supply, and utilization of renewable energy. The ship-based solution they said in detailing the concept resolves issues such as long downtime from undersea cable malfunctions and repairs, as well as the high costs associated with ultra-high voltage connections and substations. It will enable the installation of offshore wind farms in areas where undersea cable deployment is a challenge.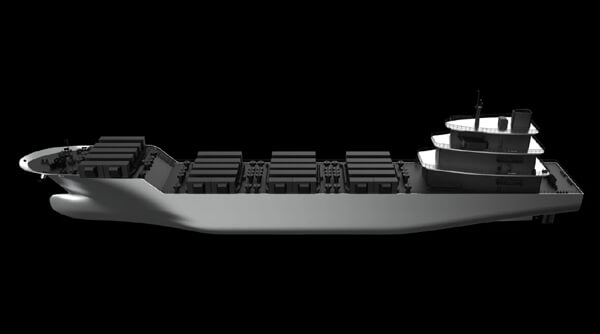 Proof of concept vessel would be completed in 2025 and begin testing in 2026 (PowerX)

As part of today's announcement, they also reported agreements with Kyushu Electric Power Co. and the City of Yokohama. They will explore using the battery and transport system in the port of Yokohama to support local companies in the port and promote the storage, supply, and utilization of renewable energy. They will explore with the power company how the technology can be used to address existing limitations in the capacity of grid systems that connect different regions.

Previously, the company reported it had entered into a capital and business alliance with Imabari Shipbuilding to jointly develop the prototype of the vessel. Japanese shipping company NYK is also participating in the development and the planned testing of the battery-carrying ship.

<