<
The second of the vessels recently left the shipyard having finished the conversion about two years behind the original schedule.

After having introduced the first LNG-fueled containerships, TOTE said in 2017 that it had decided to also convert the sisterships Midnight Sun and North Star to LNG. The vessels, built in 20023, are 839 feet long and 24,788 dwt, maintaining the company's supply service from Tacoma to Alaska.

The conversion contract with MAN included the design, development, and testing of a first-of-its-kind dual-fuel kit. The vessels were built with four MAN 58/64 engines and the pioneering project was at the forefront of the industry.

The first plan anticipated converting the two ships in Singapore at Keppel Offshore & Marine's Shipyard with the work done in 2017 and 2018. However, after the El Faro was lost in September 2015, the plans were delayed for the first time. They had originally anticipated that the El Faro would sail to Alaska to cover for the ships while they underwent conversion.

The project was reworked for each ship to minimize out-of-service time. The first phase of the project focused on the required structural enhancements, including the addition of a deck to the aft end of the ship, the installation of two 1,100 m3 LNG tanks, and supporting infrastructure. Mechanical modifications for the vessel's engines would proceed while the ship is in service. The final shipyard stay would be used to complete the modifications to the engines, complete all the systems, and testing.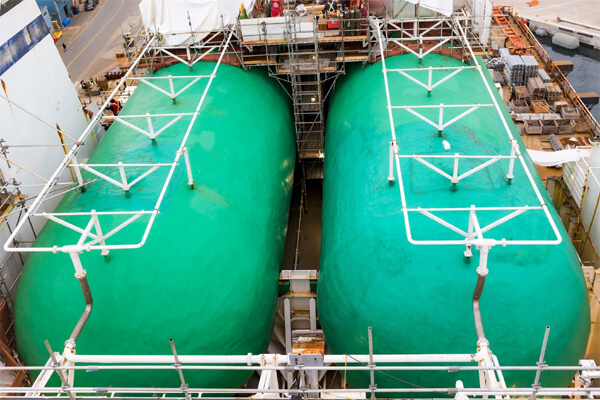 LNG tanks added to the North Star (Seaspan ULC)

Seaspan Shipyards facility in Victoria, Canada was selected to do the work with the first of four conversion projects for the two vessels undertaken in December 2017 aboard the North Star. The project required 60 days and was done over the winter to reduce the disruption of service to Alaska. Following her first shipyard stay, the North Star returned to Alaska, marking the first voyage outfitted with two new LNG tanks in February 2018.

After the first project was completed, TOTE deferred the efforts saying that the second shipyard portion for North Star would proceed at the end of 2020. Work on the Midnight Sun, which had been scheduled to do phase one in late 2018 was delayed a year with her completion scheduled for 2021.

"We recently hosted a familiar face from TOTE Maritime Alaska at Seaspan Victoria Shipyards," wrote Seaspan in a social media posting yesterday. "TOTE's North Star recently completed a 10-week shipyard period in Victoria, where we undertook work to prepare the vessel to run on LNG dual-fuel technology."

Seaspan reports the North Star returned to service after also undergoing routine maintenance, which involved prep and painting, and steel and pipe repairs and inspection. TOTE's sister ship, the Midnight Sun, Seaspan reports completed its LNG conversion work scope at Victoria Shipyards in 2022 and received certification from the U.S. Coast Guard to officially run on LNG later in the year.

The shipyard called the conversion process a complex project. It remains at the forefront of the industry with only a few ships undergoing the conversion. Hapag-Lloyd converted the first containership in 2021, which had been built ready for LNG, and Matson contracted with MAN for the conversion of the first of two of its containerships with the work expected to be completed later this year on the 2018-built Daniel K. Inouye.


<