<
The troubled ship, which is experiencing its fourth breakdown in a year in New Zealand, became a tourist attraction with residents turning out along the harbor to see the ship arrive.

The tow had taken more than 24-hours to bring the 965-foot ship back from an anchorage off the north coast of New Zealand's South Island. The ship experienced an engine failure in heavy seas on May 12 after transiting the Cook Strait. With the ship rolling heavily the captain issued a May Day call reporting that the crew of 24 were preparing to abandon ship, but later the seas calmed and the May Day was rescinded. An ocean-going tug on assignment to the oil and gas industry was able to rescue the ship and bring it into sheltered waters in Tasman Bay on May 13.

Maritime New Zealand, which has been overseeing the effort, reports it has been a complex operation, involving a significant number of people and organizations according to Incident Controller David Billington. They have been coordinating with the owners of the vessel in Singapore as well as the Singapore authorities as the vessel's flag state and Lloyd's Register as the class society.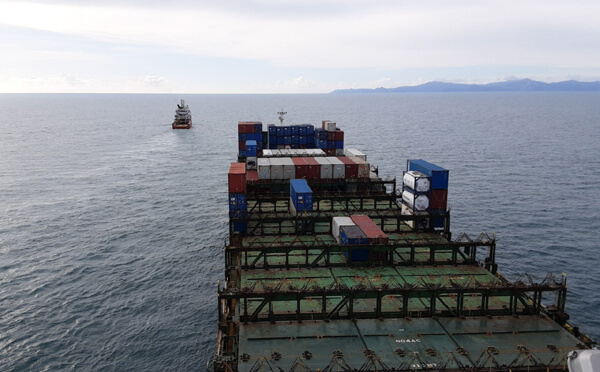 Shiling under tow back to Wellington two weeks after it departed after a three-week detention (Maritime New Zealand)

The challenge was bringing the largely empty containership back through the Cook Strait which can have difficult and unpredictable weather conditions. It is carrying approximately 250 containers out of its normal capacity of 5,028 TEU. Billings said they have been monitoring for a window of good weather to undertake the tow. Last weekend, with rough conditions forecast at the anchorage they had to reposition the ship to shelter.

On Monday, May 22, they determined that the forecast was looking good and the tow commenced in the morning. Billington reported that the ship had been making 5 to 6 knots under tow. Reports said the sea conditions were ideal for the tow.

"The crew of the Skandi Emerald is very experienced in managing tows in a range of conditions, including what could be experienced in the Cook Strait," said Billington. When they reached entrance to Wellington harbor this morning, Maritime New Zealand as a precaution set up a 500-meter exclusion zone and suspended operations of the ferry crossing the harbor. Two harbor tugs met the tow and helped guide the ship back to the dock.

The Shilling had previously spent three weeks at the dock in Wellington after experiencing another power failure in the harbor in April. It also had two prior power problems in recent months. Maritime New Zealand had issued a detention and only cleared the ship after temporary repairs were made and consulting with Lloyd's Register and the manufacturer was satisfied that the ship would have sufficient power to return to Singapore for permanent repairs. New Zealand had also required the vessel to undergo sea trials and be escorted from the port by tugs.

"We still don't know what the problem is; whether it's the same problem that's happened before, or whether it's a completely separate problem," Maritime New Zealand deputy controller Kenny Crawford told the New Zealand Herald. Reports indicate that the owners have flown engineers in to access the problem and discovery why the engine failed yet again. Port officials said to the media that they expected the ship will remain for the foreseeable future in Wellington.

Maritime New Zealand reports it has begun an investigation while New Zealand's Transport Accident Investigation Commission has already begun an investigation after the Shiling blacked out in Wellington harbor in April. During that incident the ship drifted across a sandbar nearly grounding. Singapore is also beginning an investigation.


<