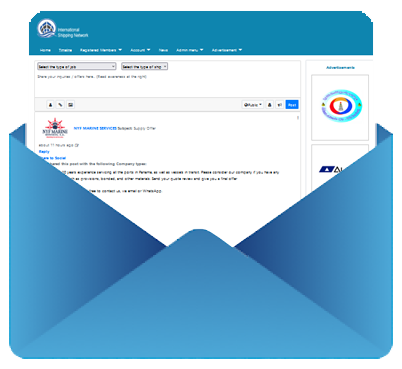 The brand NEW
Mail to Timeline
service of International Shipping Network (iShipNet) simplifies even more the procedure of sharing your daily orders on iShipNet Timeline.
Now you do not even have to login...
You just add
This email address is being protected from spambots. You need JavaScript enabled to view it.
to your circular list. Our system detects your circular mail and automatically creates the corresponding posts like if you have created them manually on the Timeline.
More than 1000 registered companies and individual professionals (all related to Maritime Industry) are notified in real time about your order and have the ability to directly reply to you.
You get a mail notification for replies to your orders as soon as you receive a reply.
What you need to do is register in iShipNet platform, so that our system knows that your circular mail orders are posted from your account.